Blood heat for life relay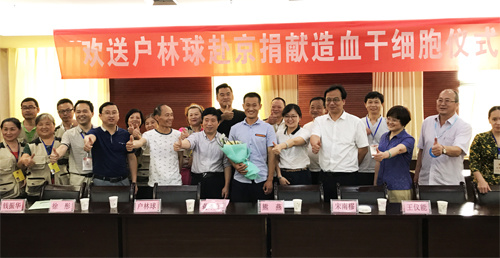 Household forest ball, Jiujiang Fire Equipment Co., Ltd. Management Department of an ordinary workers. Chinese bone marrow bank hematopoietic stem cell volunteer donor.
April 18, 2017, with a leukemia patients with high-resolution color matching success, physical examination in line with hematopoietic stem cell donation conditions, need to go to the Beijing Air Force General Hospital donated hematopoietic stem cells.
The fate of untold people affectionate, selfless help others, is Jiujiang Fire Equipment Co., Ltd. advocated one of the corporate culture, the Friends of the forest ball love donations, the company has received high praise and support, June 22, 2017, the company appointed manpower The head of the Department of Resources, attended the farewell ceremony held by the comrades of the hematopoietic stem cell donor in the Lianxi District, Jiujiang City, to take care of the recovery of the body after donation, and 30 days of paid leave. At the same time, To the forest ball comrades as an example, carry forward this "love without boundaries, good water" spirit!
Related Information
---