Our production of fire extinguishing robot in Xiangtan fire brigade debut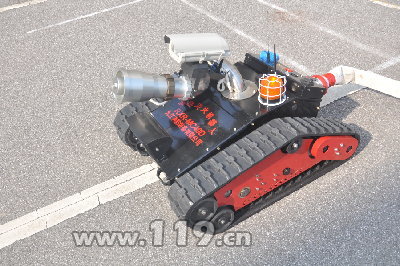 Xiangtan fire to celebrate the "new comrades" fire fighting robot debut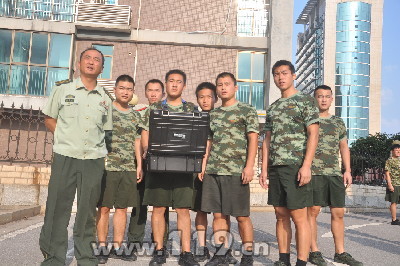 Xiangtan fire to celebrate the "new comrades" fire fighting robot debut
Xiangtan fire to celebrate the "new comrades" fire fighting robot debut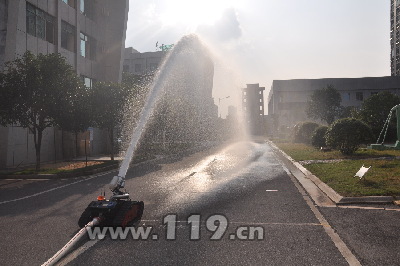 Xiangtan fire to celebrate the "new comrades" fire fighting robot debut
Recently, Hunan Province, Xiangtan City Public Security Fire Brigade special squadron team to celebrate a "new comrades" - rxr-mc40d fire extinguishing robot. This is also the city's first official service of the robot, will greatly enhance the fire department disposal of the crisis, the explosion and other types of accident rescue capabilities.
The fire extinguishing robot shape similar to the "small tank", long 1030mm, width 700mm, high 840mm, net weight 140kg, driven by maintenance-free battery pack, the use of rubber crawler walking, climbing angle of 22 degrees, the maximum flow of 40l / s, 50 meters, walking speed 0.58m / s, the tail is equipped with fire hose dedicated interface, can be dragged three high pressure water bag to the designated location. The front and rear parts of the fuselage are equipped with infrared wide-angle video camera. The video transmission distance is 120m, and the front is also equipped with a water cannon of about 40cm. It can spray water column and water mist. Fire officers and soldiers can transmit to the control platform according to the camera Of the video to control the fire extinguishing robot operations, for the fire fighting to provide effective self-protection.
The fire extinguishing robot in place, the detachment of the first time invited manufacturers and technicians to carry out on-site training, training, technical personnel on the fire extinguishing robot performance, use and maintenance aspects of the special training, and live demonstration The operation of the use of methods, and instructions for each mode of equipment instructions, followed by fire officers and men through personal operation, real exercise to learn to use, to understand the overall function of the system to master the operation and maintenance of the system, for the future The successful completion of the fire fighting and rescue mission to lay a good foundation.
It is understood that rxr-mc40d fire extinguishing robot is a remote fire can be achieved remote fire fighting equipment, it can enter the dangerous places through remote control, across the slope of the terrain, can produce a strong heat in the fire environment to effectively protect themselves Continuous work, through the wireless remote control flexible control of the direction of fire guns, fire, cooling, chemical dilution and other relief work, the image transmission function can be the first time to feedback the situation inside the fire, and thus grab a variety of fire fighting in a timely manner Fighters, timely provision of disaster relief command expert decision-making information. At the same time, it can replace the firefighters in the petrochemical, tank and large warehouses, buildings and other high temperature, strong heat radiation, easy to collapse and other places when the fire on the melee storm and toxic gas liquid leakage and cooling, Effectively ensure that the front line of fire officers and men of personal safety.
This article from the "China Fire Online", reproduced link: http://119.china.com.cn/zbjs/txt/2016-09/22/content_9047900.htm
Related Information
---